Marion Gale *****

HAND READER (HAND ANALYST)
IN TORONTO, ONTARIO - CANADA




CONTINENT:

RECOMMENDATIONS BY MARION GALE:

JUNE 2011 NOTIFICATION: Marion has informed us that - due to private circumstances - for the time being she is no longer able to answer your hand reading questions, nor provide hand reading consultations. Therefore we recommend you not to contact Marion, but please continue to enjoy her books & website!

"Author of the books:
Read His Hands, Know His Heart (2005), which includes: 'The Love Deck original card deck'"

"Editor of the books:
Hand Psychology (2002)
The Palmist's Companion (1992)
Palmistry: Your Career in Your Hands (1990)"



Palm Reading profile for: Marion Gale

SERVICES:
-

CONTACT INFO:
-

WEBSITE:
www.hand-analysis-secrets.com

HAND READING PARTNERS FROM CANADA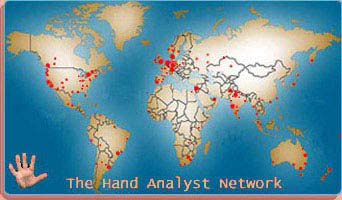 FIND MORE: Hand readers & Palmists in Canada
BACK TO: Palm Reading in Ontario | Hand Reader Network