NAIL TUTOR
RESULT!



LATERAL NAIL FOLD:
redness (inflammation)
Lateral nail fold redness can have many causes. When the redness is featured with 'swelling' it can be caused by for example nail biting or nail picking. However, the redness might be caused by another nail problem, like for example: paronychia or ingrown nails [source: DermNet NZ]

TREATMENT: 1) warm water soaks, 2) drainage of abscess

Synonyms: paronychia, nail fold edema/oedema


>> RESTART THE NAIL TUTOR <<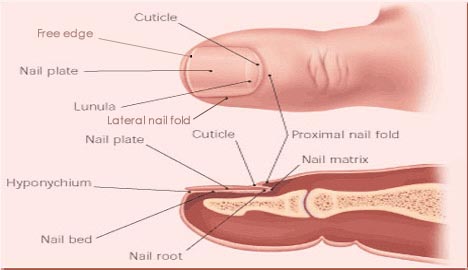 THE NAIL UNIT
The eight basic components of the nail unit include: 1 - proximal nail fold;
2 - cuticle; 3 - lunula; 4 - nail plate; 5 - lateral nail folds; 6 - nail bed;
7 - hyponychium; 8 - free edge.
* NOTICE: The
HandResearch Nail Tutor Tool
is still in development - currently this tool discriminates 57 fingernail disorders in the nails. The NAIL TUTOR tool is an aspect of
Medical Hand Analysis
&
Multi-Perspective Hand Reading
. The purpose of this tool is to help you identify the nature of your fingernail disorder. The section
fingernail disorders
presents a more comprehensive overview of the most common fingernail abnormalities.