NAIL TUTOR
RESULT!



PROXIMAL NAIL FOLD:
cysts
Cysts on the proximal nail fold are one of the commonest benign tumors - these benign tumors are NOT like cancer! These cysts are believed to form from deteriorated tissues. Myxoid cysts may be associated with osteoarthritis [Source: Medscape]. Medical vocabulary: digital mucous cyst.

TREATMENT: Surgical removal, triamcinolone injections.

Synonyms: myxoid pseudocysts, periungal cyst, digital syst


>> RESTART THE NAIL TUTOR <<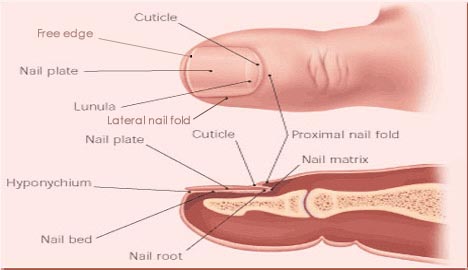 THE NAIL UNIT
The eight basic components of the nail unit include: 1 - proximal nail fold;
2 - cuticle; 3 - lunula; 4 - nail plate; 5 - lateral nail folds; 6 - nail bed;
7 - hyponychium; 8 - free edge.
* NOTICE: The
HandResearch Nail Tutor Tool
is still in development - currently this tool discriminates 57 fingernail disorders in the nails. The NAIL TUTOR tool is an aspect of
Medical Hand Analysis
&
Multi-Perspective Hand Reading
. The purpose of this tool is to help you identify the nature of your fingernail disorder. The section
fingernail disorders
presents a more comprehensive overview of the most common fingernail abnormalities.