| | |
| --- | --- |
| Palmistry: Palmist - Palm Reader - Palmreader - Hand Analyst - Handanalyst - Hand Reader - Handreader | |

RESIDENCE:

Surabaya - Indonesia

PALMISTRY SERVICES:
Palmistry reading + palm therapy

CONTACT INFO:
Phone: 62 31 731 24 27
E-mail: bermoda2000@yahoo.com

WEBSITE:
-

Personal recommendations by Budi Daruputra:

"It is interesting to note that the palm elements (lines, mounts, sizes, finger inclinations and more) reveal a consistent story about the owner. Some people' lines are changed fast, some are not. Guiding the clients to pay attention on certain elements is therefore made possible, especially for those who are interested in understanding their own palms for some time after a reading."

"To me palmistry is more empirical than mystical or spiritual. I always suggest my clients to regard palmistry as an interesting reference for them and for fun...!"




Find more Palmists & Palm Readers in Indonesia
Visit the Palm Reader Directory | New Palm Readers | Advanced Palm Readers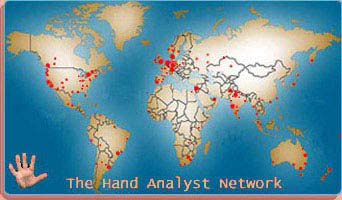 | | |
| --- | --- |
| Palmistry: Palm Reading - Hand Analysis - Hand Reading - Chiromancy - Chirology - Handreading - Handanalysis | |