- 25 Years Hand Analysis Research -
Decoding the Hand with Multi-Perspective Hand Reading!
Most of the contents of this site relate to the fields associated with the diagnostic practice of 'hand reading' - which is a.k.a. scientific hand analysis, psychodiagnostic chirology, chiromancy, chirognomy, predictive palmistry & medical palm reading.
---

- Introduced in 2018 -
System for Big Five personality profile interpretation
(derived from personality disorder prototypes)
(In 2019 this system will be used to explore whether
the full Big Five personality profile in individuals
correlates with the hand)


- Hand Reading around The World-
The Hand Reading websites Top 100
based on 300+ sites in 35 counties!
---
Hand Reading Books Top 100:
rankings by popularity & user ratings,
reviews + new books!
---
---
Hand Reading research:
Palm Reading research - Palmistry research
Hand Analysis research
TIP: The navigation bar at the top includes items that each present a handy overview for one of the major sections of handresearch.com
You can also find the topic of your interest quick & easy by using the Search tool included in the navigation bar, which covers 1800+ hands related topics, hand signs & themes (e.g including 700+ palm reading- and palmistry profile pages presenting hand readers, hand analysts, palmists & palm readers around the world)
+ many hands research studies!

250 Famous hands & celebrity hand readings!
---
These are the 9 levels of the hand used in
Multi-Perspective Hand Reading: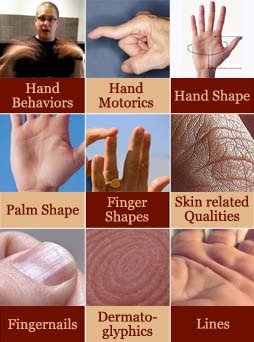 ---