---



Walt Disney's fingerprints:



Dermatoglyphics.com reports the following fingerprint analysis: "The tremendous talent and imagination of Walt Disney was a valuable gift for all mankind. He was indeed above and beyond the average thinker. And he did however possess a very rare fingerprint pattern. Walt Disney displayed a Central Pocket Loop Type Whorl pattern with a meeting tracing on his right forefinger. Under the NCIC FPC it is classified as CM. In 1993 the FBI conducted a study on the frequency of fingerprint patterns which included 17,951,192 males. Among those studied only 32,999 displayed the classification of CM on the right forefinger. This study would place Disney's frequency for this classification of the pattern to be 0.18 %."



NOTE: 'CM' = central pocket whorl.




Walt Disney's life purpose hand analysis made by Richard Unger:



Life Purpose: Influential Artist
Life Lesson: Express Your Passions
Soul Initiation: Emotional Risk

| | | | | |
| --- | --- | --- | --- | --- |
| LOOP | WHORL | LOOP | WHORL | LOOP |
| LOOP | TENTED ARCH | LOOP | LOOP | LOOP |
- EDITOR COMMENT: Disney's right ring finger print is a 'loop'; left index finger print is a 'radial loop' -


(Click on the fingerprint picture to see the high resolution version!)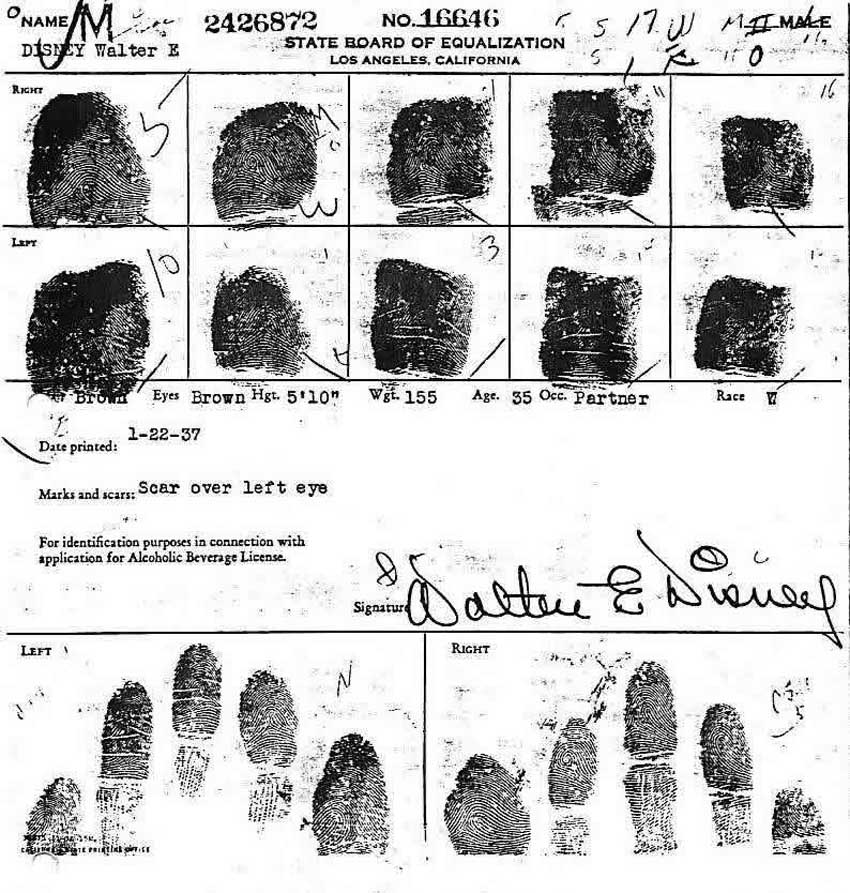 Disney Games | Hands of Famous Artists | Games for Kids
How became Walt Disney famous?


Walt Disney became famous for his influence in the field of entertainment during the 20th century. He was particularly noted for being a film producer and a popular showman, as well as an innovator in animation and theme park design.

The corporation he co-founded, now known as The Walt Disney Company, today has annual revenues of approximately U.S. $35 billion. Donald Duck and Mickey Mouse belong to his world famous creatures. Today you can also meet them in Disney World!