Melanie Ollenberg **

PALMIST (PALM READER)
IN TORONTO, ONTARIO - CANADA




CONTINENT:

RECOMMENDATIONS BY MELANIE OLLENBERG:
"Propelled by a dedication to wellness, Melanie combines her lived experience with formal education in Esoteric Studies (Transformational Arts College, ON) and Health Science (University of Lethbridge, AB) to share the natural interconnectedness of nature, passage, energy and divination with her communities."

"She has worked with non-profit, corporate and hospital organizations for 15 years. Beginning with front-line addictions counselling (6 years), Melanie gained experience in creating safe space, nurturing the healing process with both mainstream and alternative tools and processes, and developing an awareness of issues around diversity and the social determinants of health as they are experienced by individuals. Her experiences working with individuals have lead her to working in community research and development initiatives (12 years), and using findings to advocate across the social determinants of health at an organizational and systemic level."

"Concurrent to her counselling and community development careers, Melanie practiced her art as a palmist (12 years), blending the skillful heart of individual counselling with the rational mind of pattern in research. Through Kore Changes, she weaves community development, health promotion, and diversity frameworks into all of her initiatives."

"Melanie has lectured, read palms and facilitated ceremonies and rites of passage internationally. Appearances include guest reader on the Discovery Channel in 2002, opening ceremonies for the Centre for Addiction and Mental Health's community forum in 2006, Psychic Society of Toronto 2002-2006, and the Steve and Chris Show 2008. She has also facilitated palmistry sessions at numerous corporate events, retreats, festivals, and family gatherings."

Palm Reading profile for: Melanie Ollenberg

SERVICES:
Palmistry reading (+ reiki, handfasting, cermonial fascilitation)

CONTACT INFO:
Phone: (416) 569-7241
E-mail: melanie@korechanges.com

WEBSITE:
-

PALMISTRY PARTNERS FROM CANADA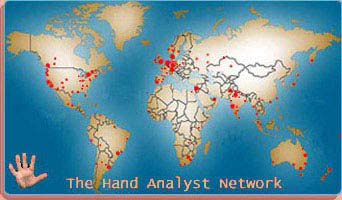 FIND MORE: Hand readers & Palmists in Canada
BACK TO: Palm Reading in Ontario | Hand Reader Network