Global Hand Reading Network:
700+ experts in 54 countries!
The profs network includes profile-pages for each of the 700+ hand readers, hand analysts, chirologists, palmists & palm readers living in 54 countries; each profile page includes contact info + various credibility marks (such as a personal website, books, YouTube video, etc.).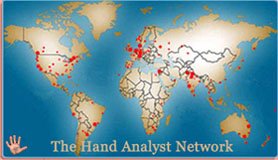 TIP: You can also find names & locations of hand readers, palm readers & palmists instantly with the 'Search' tool in the navigation bar!

- Global Network: Hand Readers in 54 countries -
Find a hand reading expert (palm reading, palmistry, hand analysis, chirology, chiromancy, chirognomy) in your country! (World map)
- Hand readers, palm readers, palmists, hand analysts, chirologists, chiromancers, chirognomers, etc. -