MORE FINGER LENGTH IN SPORTS REPORTS:

• Digit ratio linked with sexual orientation in Japanese twins!

• Finger length & sex I.D.!
• Digit ratio & the science of Gaydar!
• Digit ratio & transsexuality!
• Finger length predict penis length!
• More studies on finger length & sexuality!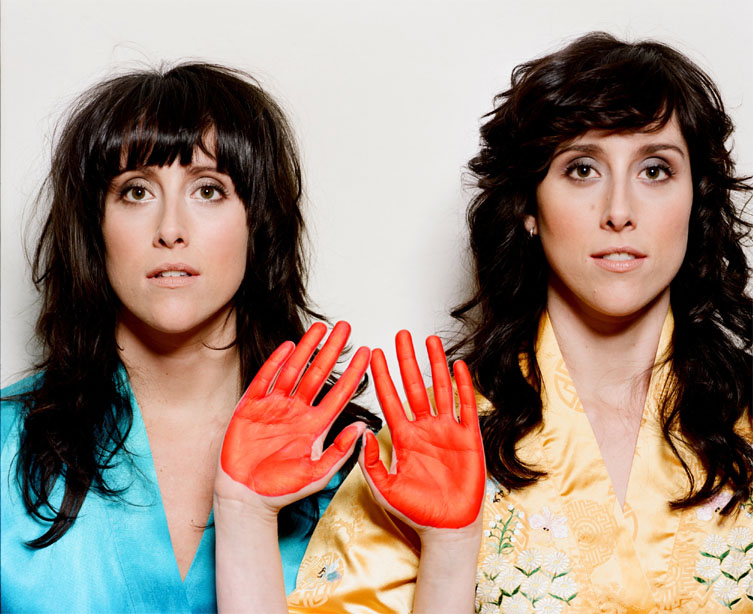 Video: Dr. Phil discussing digit ratio & infidelity.




January 23, 2012

SEXUAL ORIENTATION PREDICTED BY DIGIT RATIO IN 91% JAPANESE TWINS!

Monozygotic twin pairs discordant in sexual orientation show significant within-pair differences in the 2D:4D ratio.

Since the year 2000 various studies have reported (sometimes conflicting results) about 2D:4D digit ratio being lined with sexual orientation.
A meta study (2010) revealed that the results among 18 samples of men and 16 samples of women are consistent, but only significant in the female samples. The new 2012 twin study from Japan has now confirmed that even in identical twins (discordant for sexual orientation) digit ratio provides a clue about sexual orientation in both men and women!

The Japanese twin study is titled:

' The Second to Fourth Digit Ratio (2D:4D) in a Japanese Twin Sample: Heritability, Prenatal Hormone Transfer, and Association with Sexual Orientation'.

Quote from the study:

"Female monozygotic twin pairs discordant in sexual orientation showed significant within-pair differences in left hand 2D:4D, where non-heterosexual twins had lower (more masculinized) 2D:4D. In addition, we found that non-heterosexual male MZ twins had larger (more feminized) 2D:4D than their heterosexual co-twins."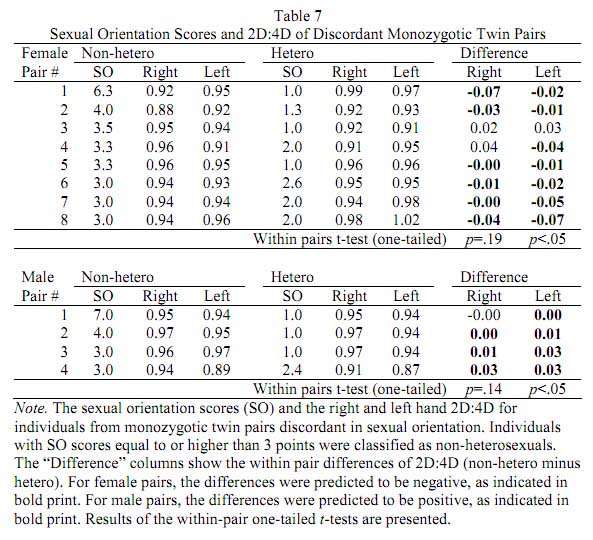 FINGER LENGTH RATIO PATTERNS VARY BY GENDER
& SEXUAL ORIENTATION:

Most studies (including the often quoted 2000 study by Marc Breedlove) revealed that sexual orientation typically manifests through finger lengths featured with a 'mirror-effect' among both sexes:

- Heterosexual men on average have a lower digit ratio compared to heterosexual women; however homosexual men tend to have a 'feminized' digit ratio;
- Heterosexual women on average have a higher digit ratio compared to heterosexual men; however homosexual wommen tend to have a 'masculanized' digit ratio;

The 2012 Japanese twin study confirmed these tendencies regarding for both hands in: 6 out of 8 female twin couples, and 3 out of 4 male twin couples.

Which indicates that among twin couples discordant in sexual orientation, finger length provides a chance of about 75%* showing which of both twin individual is heterosexual/homosexual - with the left hand being a better predictor.

In the Japanese twin study the 2D:4D finger length ratio of the left hand correctly predicted sexual orientation in over 91%* of the 12 identical twin couples!

* NOTICE: Both percentages are not mentioned bij the authors of the article, however these percentages are derived from the data presented in table 7 inside the article (see the illustration above).












Digit Ratio correctly predicts Sexual Orientation in 91% of Japanese monozygotic (identical) discordant twin pairs !

Discover the Latest News about Hands!




- HAND NEWS DATABASE -

SCIENTIFIC PALM READING: FOLLOW THE GLOBAL DEVELOPMENTS + LINKS TO MANY IMPORTANT ARTICLES






MORE NEWS:
HANDS ON HEALTH CARE!!