Abarin Yuriy ****

CHIROMANTIST (PALMIST)
IN SAMARA, RUSSIA





CONTINENT:

RECOMMENDATIONS BY ABARIN YURIY:
"I am the head of the big company. I work with people I am helping very well by knowledge and skills of chiromancy."

"I understand professional suitability, in psychological compatibility of the employees, and in friendships. And though for me Chiromancy is not an activity principal view, I am in earnest about this hobby very much.

"I am engaged in hand analysis more than 15 years and have promoted this area very far. My favourite directions: mutual relations in a family (love and marriage), and business (career).

"Many people ask me: why I name myself 'chiromantist', and not 'chirolog'? The answer is simple! First, I am a good psychologist. Secondly, I concern the hand analysis as an art, to secret, instead of as, to the usual statistics of signs and lines.

"I like to communicate with living hands, instead of with pictures or prints. Therefore, my articles are not only informative, but also very interesting and evident.

"I try, that the beginner chirolog not to learn simply by heart the characteristics of signs, hills and lines on hands; he or she has to start to understand the principles - the essence of all processes on the palms. If possible to ascertain not simply the facts, but also found the reasons of their occurrence, the further consequences."

"I run courses, I read lectures in different cities of Russia. I render consultations. I write articles for magazines. Some of them can be esteemed on my site."

"I prepare to publish my book about the possibilities of the hand analysis."

Palmistry profile for: Abarin Yuriy

SERVICES:
Palmistry reading consultation & course (hiromantia + psiholog)

CONTACT INFO:
E-mail: abarin@midnet.ru

WEBSITE:
abarin.ru

PALMISTRY PARTNERS FROM RUSSIA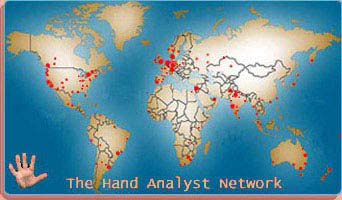 Palm Reading |

Palmistry |

Handlezen

FIND MORE: Palmists & Palm Readers in Russia
BACK TO: Hand Reader Network | New Hand Analysts | Palm Reader Facebook