Debé Wenig ***

Palmist (palm reader)
IN COLUMBUS, OHIO - US




CONTINENT:

RECOMMENDATIONS BY DEBÉ WENIG:
"Debé has been practicing astrology and palmistry for more than 20 years. She takes a teacher's approach to her readings, pointing out key elements of the hand to the client. By analyzing the lines, hand shape, fingers, fingertips, and skin patterns in the hands, Debé can uncover the life purpose and life lesson(s), and gain insight into the way a person loves and wants to be loved, their strengths, challenges, and special gifts. Using the information from the hands as well as her abilities as a healer and intuitive, Debé will tailor the reading to the needs of the client. By incorporating her knowledge of Astrology and EFT. (Emotion Free Technique) into her hand analysis, Debé's goal is to help the client overcome limiting beliefs, and empower him or her to live their most authentic life."

Palm Reading profile for: Debé Wenig

SERVICES:
Palm reading, parties (+ astrology & EFT)

CONTACT INFO:
Telephone: (614) 947-0933
E-mail: Debewenig@yahoo.com

WEBSITE:
www.passionatepalmist.com

HAND ANALYSIS PARTNERS FROM NORTH AMERICA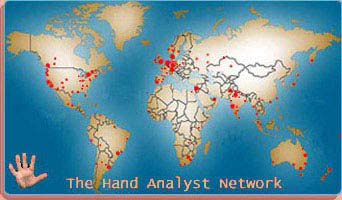 FIND MORE: Hand readers & Palmists in U.S.
BACK TO: Hand Reading in Ohio | Hand Reader Network