Khatti Von Leigh ***

PALMIST (PALM READER)
IN SUNSHINE COAST - QUEENSLAND, AUSTRALIA





CONTINENT:

RECOMMENDATIONS BY KHATTI VON LEIGH:
"Khatti has written for Woman's Day, Your Destiny and various other publications over the years. She has been a regular speaker at Mind, Body and Spirit Festivals nationally in esoteric topics such as Palmistry, Name numerology, Creating Abundance and Divinatory Tools. Whilst in Newcastle NSW, she was awarded Best Tutor for her workshops and courses in Well-Being. People even ventured from as far as Sydney and Tamworth to participate in her Palmistry Courses."

"Having recently moved to the Sunshine Coast, north of Brisbane, Australia, she is expanding her contacts and now holds regular Mystika sessions on Wednesday nights."

"Anyone wishing to have a reading or hold psychic parties can contact Khatti on 07-5441 7217 or 0410 399926."

Palmistry profile for: Khatti Von Leigh

SERVICES:
Facebook: Khatti von Leigh Visionary
Palmistry reading, palmistry course & parties

CONTACT INFO:
Phone: 07-5441 7217 or 0410 399926
E-mail: kat-ching@hotmail.com

WEBSITE:
-

PALMISTRY PARTNERS FROM AUSTRALIA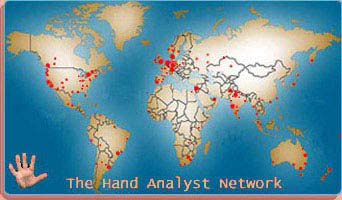 FIND MORE: Palm Readers & Palmists in Australia
BACK TO: Hand Reader Network