- Global Hand Reading Network -
Hand Reading experts in Australia: 28 hand readers!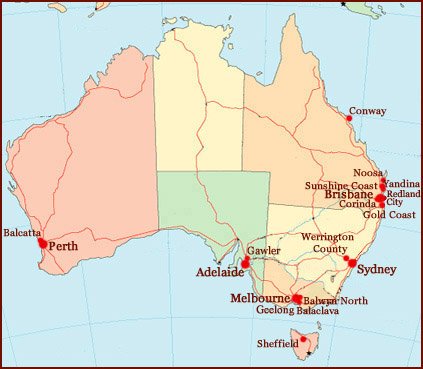 - MAP: Hand readers in Australia! -
---
Stars behind the expert names represent the following credibility marks:
* = Photo available
* = Website available
* = (Youtube) video available
* = Course available
* = Author of book(s)
* = Linkpartner
* = Top 100 books voter
* = Advanced Profile available
* = Accredited by an organization
---
Hand reading news from Australia:


March, 2015:
Odd fingerprint distribution for Australia!
The fingerprints world map shows the highest 'pattern intensity' (= high prevalence of whorls) on continent of Australia!


May, 2009:
The Sydney line: an underestimated hand crease!
The Sydney line was first described by researchers from Sydney, Australia.


January, 2009:
Fingerprints reveal identity, drugs & lifestyle!
Fingerprints can reveal use of marijuana, cocaine, and methadone.


January, 2008:
A new means of measuring 2D:4D digit ratio, plus: link with gender & handpreference!
The index (2D)/ring finger (4D) ratio and its association with gender and hand preference.
More hand reading news available here:
Hand reading news: 300+ reports!
---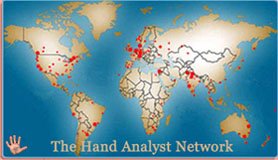 International hand reading experts:
Global Hand Reading Network
Common synonyms for hand reading are:
palm reading, palmistry, hand analysis & chirology