Julie Rafuse **

PALMIST (PALM READER)
IN BOTWOOD, NEWFOUNDLAND AND LABRADOR - CANADA




CONTINENT:

RECOMMENDATIONS BY JULIE RAFUSE:
"I have been reading hands for the past 17 years. I am currently writing a book to help people explore and understand the language that is in their hands. I am trying to help and guide others by doing readings from my home and on-line. I also read Tarot Cards and I have intentions to get my certifications in Reflexology, Natural Path Medicine and Reiki.

I like to help others explore and understand thier map of life that is on thier hands. This is a very helpful tool for every aspect of your life, and it is waiting to be discovered. I feel that one of my life purposes is to help, guide, and teach as many people as i possibly can how to interpret what is written in their hands."

Palm Reading profile for: Julie Rafuse

SERVICES:
Palmistry reading, coaching (+ tarot)

CONTACT INFO:
Facebook: Your Guiding Hands
E-mail: juliearafuse@gmail.com

WEBSITE:
-

PALMISTRY PARTNERS FROM CANADA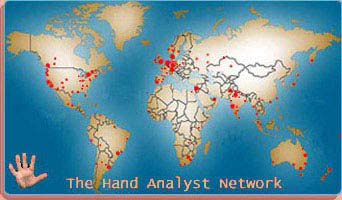 FIND MORE: Hand readers & Palmists in Canada
BACK TO: Palm Reading in Newfoundland and Labrador | Hand Reader Network