Sri Vanesh Kansara ****

PALMIST (PALM READER)
IN AHMEDABAD, INDIA




CONTINENT:

RECOMMENDATIONS BY VANESH KANSARA:
"Some of my professional achievements are:
• 1 - I wrote various articles on palmistry only in leading Panchangs, for over 18 years.
• 2 - Maintainning the column for daily forcast in 'Jaihind' - daily newspaper.
• 3 - Writing articles for palmistry in 'SAKHI' magazine for 3 years (1992 to 1995).
• 4 - In 1993 I won the 'Gold Medal' by Astrological Research Project at Kolkata & entitled myself by 'Jyotish Shiddhant Sagar'
• 5 - In 1999 I write the book on palmistry for 196 pages in Gujarati, titled: 'HASTREKHA' (published by: Sahitya Saurabh).
• 6 - 'Jyotishdeep', a very popular magazine for astrology in gujarati which is handled by 'Sandesh' newspaper. I wrote many articles in this magazine for palmistry.
• 7 - Maintain the 'Astrology on line' under the www.sandesh.com for 3 years by association with my father, Mr.Kantilal Kansara - who is a leading astrologer."
Author of the book:
Hastrekha (1999)
Article:
Palmistry Lesson 1

Palmistry profile for: Vanesh Kansara

SERVICES:
Palmistry reading (+ astrology)

CONTACT INFO:
Facebook: Vanesh Kansara
Landline Numbers: +91 079 22 14 34 68
Mobile: +91 9898029299
Fax: +91 079 22 11 34 34
E-mail: palmist@primeprediction.net, or: vaneshkansara@yahoo.com

WEBSITE:
www.primeprediction.net

PALMISTRY PARTNERS FROM INDIA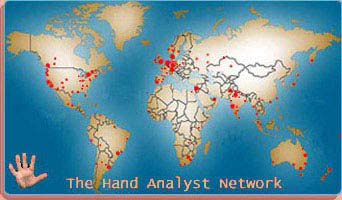 FIND MORE: Hand readers & Palmists in India
BACK TO: Hand Reading in Gujarat | Hand Reading Network