RECOMMENDATIONS BY KATHY DANNEL VITVCAK:
"What Good Will Hand Analysis Do ME????

I can hear you thinking…"Sure, this is all fun and interesting and all that…but what good will it DO? How will I benefit from a Hand Analysis? Give Me the Advantages in a Nutshell!"

Most of us have reached a stage in our evolution this time around where our basic needs are met, we are overall pretty happy and yet, there is a nagging (or clamoring) feeling that something is MISSING. Not being sure why you are here is one of the most painful experiences we can have.

Are you struggling to fill an empty hole in your life? Do you feel you are at one of those Life Crossroads and are not sure what to do? How would you like to know what GIFTS you have in this life? Do you want to do something but do not know what the heck that SOMETHING is? Do you want to scream when people tell you to follow your bliss? Do you just want to know what your bliss IS?

Join the crowd…many more people than you could ever imagine feel the same way and are struggling to fill that void in their lives, that aching, yearning void that is always there…even when you are having a great day!

Hand Analysis can help you find what is missing, help you determine what will have you leaping out of bed shouting "Let's get this day going!"

Discovering The Secret In Your Hands will give you the information you need to move forward with life, to believe and achieve.

With Sparkles & Light!

Kathy "

Palm Reading profile for: Kathy Dannel Vitcak

SERVICES:
Life Purpose Hand Analysis: hand reading & workshops

CONTACT INFO:
-

WEBSITE:
kathydv.com

HAND ANALYSIS PARTNERS FROM NORTH AMERICA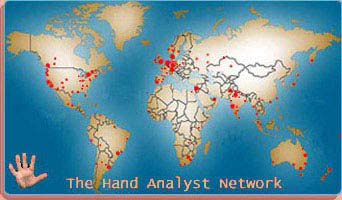 FIND MORE: Hand readers & Palmists in U.S.
BACK TO: Hand Reading in Minesota | Hand Reader Network