- Profile page for Richard Unger | Global Hand Reading Network -


Richard Unger
*
*
*
*
*
*
*
IIHA Hand analyst (hand reader)
in Tiburon, California (US)

Recommendations by Richard Unger:
"The International Institute of Hand Analysis was founded in 1985 by Richard Unger and offers a wide range of courses from beginner to professional level."
"The IIHA uses standard hand reading interpretation plus a unique system of fingerprint analysis to examine a person's life from a Life Purpose perspective. What lifestyle and/or career will bring you the deepest possible sense of meaning and fulfillment? What must you learn from your life experience in order to be capable of living such a life? Where are you now? What is your next step?"
Richard is the founder of the International Institute of Hand Analysis (IIHA).
BOOK:
Lifeprints: Deciphering Your Life Purpose from Your Fingerprints

- VIDEO: Hand Analysis Intro - Richard Unger -
- Hand reading profile for Richard Unger -
SERVICES:
Life Purpose Hand Analysis: hand readings, course, author
CONTACT INFO:
Facebook: Richard Unger
E-mail: richard@lifeprints.com
Telephone: +415-331-9922
WEBSITE:
More US hand reading experts:
Hand readers & Palmists in the state California
Hand readers & Palmists in the US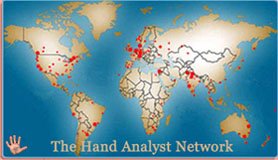 International hand reading experts:
Global Hand Reading Network

Hand reading partners from North America
Common synonyms for hand reading are:
palm reading, palmistry, hand analysis & chirology
- VIDEO: Understanding hand shapes with Richard Unger -