Kianna Smith *****

HAND ANALYST
IN AUSTIN, TEXAS - US




CONTINENT:

RECOMMENDATIONS BY KIANNA SMITH:
Personal comments & recommendations by Kianna Smith:
"Kianna appears on international radio shows and mogulus TV. She gives hand analysis consultations and weekly introductory hand analysis lectures."

"Kianna combines her spiritual insight coaching along with the art and science of hand analysis and iridology (your eye patterns) to bring forth your greater health from your eye patterns and purposeful living from the markings in your hands."

Palm Reading profile for: Kianna Smith

SERVICES:
Life Purpose Hand Analysis: palm reading (+ iridology)

CONTACT INFO:
Telephone: 512 297 7712
E-mail: service@palmreport.com

WEBSITES:
www.kannasmith.com
www.insightwithkianna.com

HAND ANALYSIS PARTNERS FROM NORTH AMERICA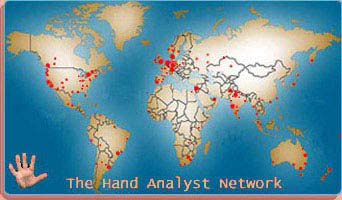 FIND MORE: Hand readers & Palmists in U.S.
BACK TO: Hand Reading in Texas | Hand Reader Network