- Profile page: Jennifer Hirsch, 5 Element Chirologist - Johannesburg [SA] -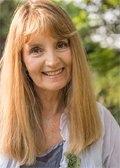 Jennifer Hirsch
*
*
*
*
*
*
*
*
Chirologist (hand reader)
in Johannesburg, South-Africa [SA]

Recommendations by Jennifer Hirsch:
• Cheirology Centre for the Study of Handreading South Africa
There can be no dispute that the hands reflect their owner, therefore having an interpretation of your hands, or learning how to read them, can greatly benefit self inquiry. Much about your temperament and character, skills and talents, weaknesses, vocational aptitudes shows in your hands, as do emotional and physical sensitivities.
The interpretive system of Cheirology mostly draws upon the principles of the elements of earth, water, fire and air, which may be blended with the best of traditional western Palmistry. Anyone can learn the beautiful and intriguing 5 element system on which this dialogue therapy is based. If you have an interest in the human hand and in counselling, compassion and love for others, the willingness and courage to take palm prints and talk to many, then this modality is for you. As you steep yourself in the scientific principles and ethics of the handreading, your intuition, which is the binding thread of the craft, will develop very rapidly.
• For readings and classes in South Africa:
Johannesburg: Jennifer Hirsch
Pretoria: Kevin Leak
• Jennifer has written two E-BOOKS which are available from her site:
5 Element Chirology - The Craft of Handreading
This book presents the 5 element system of handreading. Aspiring and practising therapists will benefit from reading this book. [54 pages]
5 Element Chirology - Traits of Being A to Z
This book is designed to help you to cross reference hands for markings that back up and verify the accuracy of your interpretation. Over two hundred human traits are aspected, within 26 intricately illustrated and alphabeticalised themes. An extensive glossary explains each marking in greater depth. For beginners, "party palmists" and professional readers alike. [40 pages].
---
- VIDEO: Jennifer Hirsch at The Taxi on CTV. -
- Hand reading profile for Jennifer Hirsch -
SERVICES:
5 Element chirology hand reading, hand reading course, author
CONTACT INFO:
Facebook: Jennifer Hirsch
Mobile: +27 (0)82 415 0653
E-mail: jen@cheiro.co.za
WEBSITE:
BOOK:
God Given Glyphs (review)

More hand reading experts in South-Africa:
Hand readers & Palmists in South-Africa

Hand reading partners
from Africa
---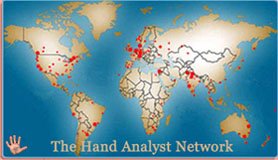 International hand reading experts:
Global Hand Reading Network
Common synonyms for hand reading are:
palm reading, palmistry, hand analysis & chirology