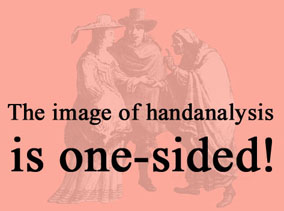 The image of handanalysis is one-sided: handanalysis is merely associated with future predictions, gypsies, circus entertainment, and the paranormal. How come that the more serious applications of handanalysis are being ignored?



Related synonyms: Hand Analysis - Palmistry - Palm Reading - Hand Reading - Cheirology




---

The origins of the image
At the outset handanalysis was equal to 'prophecy', or: predicting the future. The prophetic aspects of handanalysis have been questioned from the 16th century. Back then Gypsies exploited e.g. palmistry for unethical purposes: cheating and swindling the local population. Eventually, in 1530 Henry III made out a prohibitive regulation on palmistry.

Handanalysis disappeared from the cultural-social stage in Europe during the period of enlightenment in the 17th century. A revival was noticed in the nineteenth century, when the 'prophetic' approach was replaced by a more analytical approach which was introduced by a few research experts (like for example: Joannes E. Purkinje, Francis Galton, and Carl G. Carus).

Nevertheless one can say that the marks of time are still very clear. For William G. Benham writes in the classical 'The Benham book of palmistry' (1900) - notes from the author, page XXVIII:


| | |
| --- | --- |
| | "... During most of this time the word palmistry was so buried under a mass of public disapproval, that a self respecting person dared not say that he was even interested in it. Fully persuaded that it had a scientific foundation, I set about to discover it." |
---

The image in the year 2011




















"You are: trustworthy, loyal, helpfull,
_ courteous, kind, obedient, cheerfull,
__ thrifty, breave, clean, and reverent".


Nowadays handanalysis is still exploited by travelling showmen. 'Cold-reading' is being used and various suggestions are being communicated in order to induce the so-called 'Barnum-effect'. More info about 'cold-reading' and the 'Barnum-effect' can be found in the section: Handanalysis psychology.

Therefore it is hardly a surprize that under the influences of this kind of public entertainment the image of handanalysis is merely associated with:

• future predictions
• gypsies
• fair entertainment
• and the paranormal

This image appears to be the basis for the fact that handanalysis is being classified among the so-called 'pseudo-sciences'; astrology and graphology are usually also included in this category.

Nevertheless, the content of the section Evolutionary handanalysis indicates that there are fundamental arguments to assume that the diagnostic potential of handanalysis is much more sensible compared to astrology en de graphology.


---

When will this image change?
This question can not be answered easily. In the section Handanalysis psychology the attention is putten of to the question: ´How far have handanalysts a realistic view on the potential of handanalysis?´ Experienced handanalysts have recognized that the curiousity for handanalysis is usually accompagnied with a curriosity for the mysterial aspects of life, e.g. the 'opportunity' to receive a future prediction!


This very human eager among the public mass creates the temptation for a handanalyst to present handanalysis by means of emphasizing the mysterial aspects. The seamy side of this is that handanalysts who use this presentation strategy actually feed the one-sided image of handanalysis.

One should also stress out that still obscurity rules the answer on the crucial question: 'to what amount do hands present information about the psychology of a human being?'.