---



REPORT FROM THE SOUTHAMPTON UNIVERSITY:


Men whose ring fingers are longer than their index fingers run faster, due to testosterone levels, according to a study from Southampton University. The scientists at the Medical Research Council's Epidemiology Resource Unit, based at Southampton University, studied 241 boys aged 10 to 17 who took part in a sports talent-spotting competition in Qatar

Each runner had their hands measured to see the difference between their ring fingers and index fingers. They were then timed over a 50 metre sprint. The results, published in the American Journal of Human Biology, showed those with longer ring fingers were faster at every stage of the race.

Dr John Manning, who led the study, said it's unlikely that boys exposed to higher levels of testosterone in the womb are simply stronger than their rivals. Instead, they may owe their sporting success to better aerobic efficiency, the heart's ability to pump oxygen rich blood to hard-working muscles. Manning also thinks that finger length reflects exposure to the hormone testosterone in the womb.

"We found finger ratios of the right and left hand were positively linked with sprinting times in boys," said Dr Manning. "The advantage they had was soon apparent after the start of the sprint and remained steady thereafter." Previous studies have shown long-distance runners have the same feature. But longer ring fingers have also been linked with everything from a lower risk of heart disease and exam success to male aggression and higher earnings in the workplace.




---



SCIENTIFIC SUMMARY OF THE SOUTHAMPTON STUDY:



Digit ratio (2D:4D) and sprinting speed in boys.

Authors: Manning JT, Hill MR.

Digit ratio (2D:4D), a putative correlate of prenatal testosterone, has been found to relate to performance in sport and athletics such that low 2D:4D (high prenatal testosterone) correlates with high performance. Speed in endurance races is strongly related to 2D:4D, and may be one factor that underlies the link between sport and 2D:4D, but nothing is known of the relationship between 2D:4D and sprinting speed. Here we show that running times over 50 m were positively correlated with 2D:4D in a sample of 241 boys (i.e. runners with low 2D:4D ran faster than runners with high 2D:4D). The relationship was also found for 50 m split times (at 20, 30, and 40 m) and was independent of age, BMI, and an index of maturity. However, associations between 2D:4D and sprinting speed were much weaker than those reported for endurance running. This suggests that 2D:4D is a relatively weak predictor of strength and a stronger predictor of efficiency in aerobic exercise. We discuss the effect sizes for relationships between 2D:4D and sport and target traits in general, and identify areas of strength and weakness in digit ratio research.

Am J Hum Biol. 2009 Mar-Apr;21(2):210-3




---
THE HANDS OF OLYMPIC WORLD RECORD HOLDER SPRINT:

USAIN BOLT (Jamaica)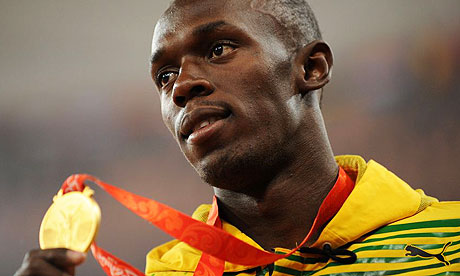 The above presented Southhampton report induces the question:

Could the success of the world's fastest man be indicated by the length of his fingers?

Let's take a look at the hand of Usain Bolt (see the 3 photos below):

All three photos indicate that the right hand of Usain Bolt is characterized by a relatively long ring finger - compared to the full length of the index finger. Actually, a more detailed analysis indicates that the 2D:4D ratio of Usain Bolt's right hand could be close to 0.93 - which is quite low for an average man (in his first book 'Digit Ratio' Manning reported that the average digit ratio for males is 0.96).

However...

Manning also reported in his book that the average 2D:4D digit ratio in Jamaican people is among the lowest of the various populations in the world (a finding which was confirmed in a 2004 study). This might implicate that Usain Bolt's digit ratio is actually not very low at all ... in the perspective of the fact that he is a Jamaican man!

Again: however ...

You may be interested to read further below to see how the 'low' Jamaican 2D:4D digit ratio combined with the Southampton research provides an explanation for the success of the Jamaican sprinters at the Beijing Olympics 2008!!!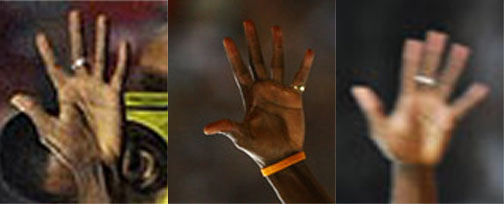 3 Snapshots of Usain Bolt's left hand: the ring finger is much longer than the index finger.
Beijing 2008: the golden Jamaican 4x 100m relay spint team - Usain Bolt & Asafa Powell
showing their relative long ring finger! (low 2D:4D ratio)
---



FINGER LENGTH INDICATES WHY JAMAICAN SPRINTERS WERE
VERY SUCCESSFULL AT THE BEIJING 2008 OLYMPIC GAMES!!!


But also...

This perspective might explain why there were so many sprinters from Jamaica in the Beijing sprint finals:

Beijing 2009 men's 100m final: 3 out of 8 were Jamaicans - the results are impressive: no.1 (Bolt), no.5, and no.6 were Jamaicans; the Jamaican male team also won the golden medal at the 4 x 100m relay final. Beijing 2009 women's 100m final: 3 out of 8 were Jamaicans - the results are even more impressive: the Jamaican women were able to acquire ALL THREE MEDALS!!!

PS. The Jamaican women didn't finish their 4 x 100m relay final - but they won in Athens 2004 Olympics the golden medal!!!

Sources: Telegraph.co.uk & Beijing2008.cn



The Jamaica sprint team 'cleaned up' at the Beijing 2008 Olympics:

Usain Bolt took care of the men's 100m and 200m; and Shelly-Ann Fraser led home a 1-2-3 in the 100m;
and on top of that Veronica Campbell-Brown won the 200m in the fastest time by a woman in ten years!!!

Usain Bolt and Asafa Powel smashed the world record in the 4x100m, and if Sherone Simpson and Kerron
Stewart hadn't stuffed up their changeover, the women would have made it six gold medals from six.
---
AUGUST 17 UPDATE:
ATHLETICS WORLD CHAMPIONSHIPS 2009 BERLIN:


JAMAICAN SPRINTERS DEMONSTRATE THE WORLD
HOW TO RUN FAST!!




JAMAICAN FEMALE SPRINTERS HAVE THE LONG RING FINGER AS WELL!!


The photos below demonstrate the finger length in the currently 3 fastest female sprinters from Jamaica - Shelly-Ann Fraiser (center photo) won the 100m gold medal, Kerron Stewart (left photo) the 100m silver medal, and former World Champion Veronica Campbell-Brown (right photo) passed the finish line as the 4th in the 100m final.

The best female sprinters from Jamaica also appear to have the long ring finger!



Another 'clean-up' by the Jamaica sprint team at Berlin 2009:

AUGUST 16:

2 Jamaican men classified fot the 100m final; Usain Bolt ran the fastest time ever (9.58 seconds),
Asafa Powel won bronze.

AUGUST 17:

4 Jamaican women were able to classify for the 100m final; Shelly-AnnFraiser won gold, Kerron Stewart won silver,
plus an honourable 4th & 8th position!!!

AUGUST 18:

2 Jamaican women classified for the 400m final; Shericka Williams won silver,
plus an honourable 4th position!!!

AUGUST 19:

2 Jamaican women classified for the 100m hurdles final; Brigitte Foster-Hylton won the golden medal,
Delloreen Ennis-London won bronze!!!

AUGUST 20:

2 Jamaican men classified for the 200m final; Usain Bolt won the golden medal, Steve Mullings finished 5th.
2 Jamaican women classified for the 400m hurdles final; Melaine Walker won the golden medal,
Kaliese Spencer finished 4th.

AUGUST 21:

3 Jamaican women classified for the 200m final; Veronica Campbell-Brown won the silver medal,
Anneisha McLaughlin finished 5th, and Simone Facey 6th.

AUGUST 22:

Jamaican men won gold at the 4x 100m relay!!! (Including: Steve Mullings; Michael Frater; Usain Bolt; Asafa Powell)
Jamaican women won gold at the 4x 100m relay!!! (Including: Simone Facey; Shelly-Ann Fraser; Aleen Bailey; Kerron Stewart)

---
DIGIT RATIO | FINGER RATIO
---
SUGGESTION FOR FURTHER READING:
Report about Usain Bolt's car crash + research: men with long ring fingers drive faster!