Leonid Ivanovyc Stadnyk from Ukraïne is the world's tallest living man according to Guinness World Records 2008. Leonid Stadnyk's excessive growth began after brain surgery when he was 14 years old. He developed a pituitary gland tumor which caused the gland to secrete large amounts of growth hormone, resulting in what doctors describe as acromegalic gigantism.

On August 8, 2007, Guinness book's spokeswoman Amarilis Espinoza stated that in the 2008 edition of the record book, Mr Stadnyk at 2.59m (8 feet, 5 inches), replaces Bao Xishun, a native of Inner Mongolia in China who stands 2.36 m.

Leonid has the biggest palm in the world as well - his palm is 31 centimeters long. Probably for this reason he does not drink alcohol: any glass looks tiny to him.

On 24 March 2008 Ukrainian president Viktor Yushchenko presented Leonid Stadnik with a car which was specially adapted for him by Ukrainian corporation Autozaz-Daewoo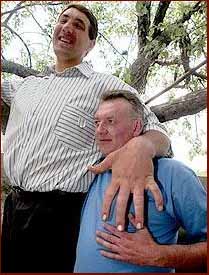 Leonid Stadnyk with his father.