- Profile page: Pundit Roshan Singh, chirologist (hand reading) in Johannesburg [SA] -


Pundit Roshan Singh
*
*
Palmist (hand reader)
in Johannesburg, South-Africa [SA]

Recommendations by Pundit Roshan Singh:
(Not yet available)
---
Quote from Pundit's website:
"PALMISTRY - This is an ancient art to direct the individual of the past, present and future. It is very effective in guiding one to make major decisions in life...

Palmistry began in India around 3,000 years ago, and that then, as now, it was primarily used as a counselling tool. It's known to many as Hand Reading, or Hand Analysis. This study of the hands takes both intuition and logic."
---
- Hand reading profile for Pundit Roshan Singh -
SERVICES:
Palmistry reading (+ astrology & numerology at the Astroworld Effect Wellness Centre)
CONTACT INFO:
Facebook: Pundit Roshan Singh
E-mail: punditroshan@telkomsa.net
Tel: +(071) 630 0834
WEBSITE:
More hand reading experts in South-Africa:
Hand readers & Palmists in South-Africa

Hand reading partners
from Africa
---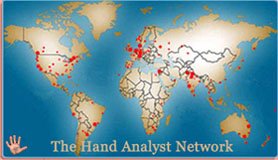 International hand reading experts:
Global Hand Reading Network
Common synonyms for hand reading are:
palm reading, palmistry, hand analysis & chirology