- Profile page: Silvana Smith, chirologist (hand reading) in Edenvale [SA] -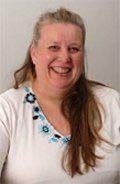 Silvana Smith
*
*
*
*
Chirologist (hand reader)
in Edenvale, South-Africa [SA]

Recommendations by Silvana Smith:
"Hand reading has fascinated me since childhood. I studied Chirology based on the elements, as well as traditional western and eastern palmistry. My life purpose is to guide other to master themselves ~ "Master of My Destination". I am a registered Ethno Medicine/Psychology Practitioner (EPASA), Professional Herbalist/Healer (WCTHC), PhD in Metaphysical Science, Ayurvedic Formulations Applications in Clinical Practice Certification (HDC), Advanced Physiognomy Certification (FPSA), and National Diploma Financial Management. My forte is understanding currents."
"I have written no books, only a few articles, brochures and leaflets to advertise my services. I attend a monthly market around Johannesburg where I analyse hands for a nominal fee. I also do online readings. My collection of prints, many who are nameless, grows steadily. I hope to one day write a book, combining all human fields and systems including Chirology. I love to talk about and share ideas on Hands."
"Eyes are the windows to the soul and hands are the windows to the "rhythm" of that soul. Just as the winds blow patterns in the sand, the cosmos blows patterns in our hands."
"My three basic tips: daily practice, keep good company, make yourself at home!"
- Silvan Smith featured monthly on Tuesday at Radio 2000 -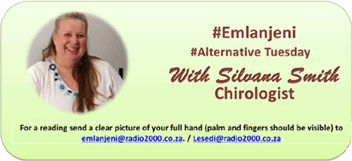 ---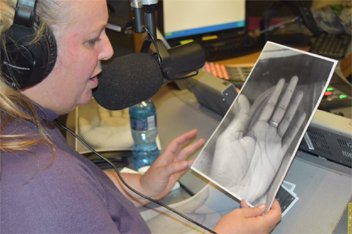 - Hand reading profile for Silvana Smith -
SERVICES:
CONTACT INFO:
Facebook: Silvana Smith
Phone: 082 395 9962
E-mail: info@chirologist.co.za
WEBSITE:
More hand reading experts in South-Africa:
Hand readers & Palmists in South-Africa

Hand reading partners
from Africa
---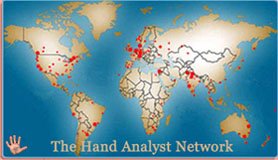 International hand reading experts:
Global Hand Reading Network
Common synonyms for hand reading are:
palm reading, palmistry, hand analysis & chirology