How to read hands: 12 major diagnostic themes!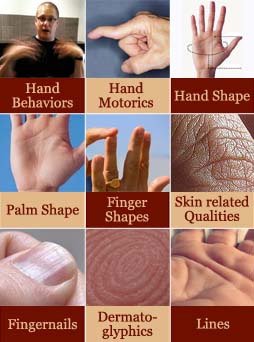 The concept of Multi-Perspective Hand Reading has already been applied to some of the most significant themes in the fields of the behavior- & health sciences.
Up-to-date guidelines (most items are featured with detailed hand charts) are presented for major diagnostic themes - which all belong to the category of the most common psychological & medical conditions for their category. More themes will probably become available later.
All materials are presented in the perspective of the no.1 rule in scientific hand reading, which is described in the diagnostic-section Scientific Hand Charts (featuring 25 diagnostic themes) as follows:
"Any hand sign only becomes significant for a specific theme when it's presence is combined with the presence of other hand signs that also bare significance for that specific theme."
- 12 Major diagnostic themes suitable for hand reading! -

TIP: The following article represents a masterclass in scientific hand reading (the table displayed below represent the framework for this article):