- How to read hands? -
12 Major diagnostic themes suitable for hand reading:
The concept of Multi-Perspective Hand Reading has been applied to some of the most important themes in the fields of the behavior- & medical sciences. Up-to-date detailed guidelines are presented below for various major diagnostic themes (most are featured with charts) - which represent worldwide the most signficant psychological & medical conditions! More themes will become available later.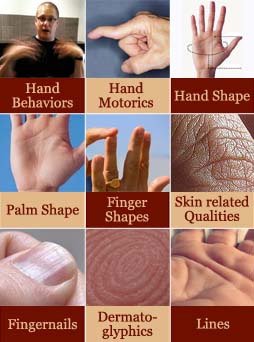 In the new diagnostic-section Scientific Hand Charts (featuring 25 diagnostic themes) the no.1 rule in scientific hand reading is described as follows:
"Any hand sign only bares significance for a specific theme when it's presence is combined with the presence of other hand signs that also bare significance for that same theme."

---
TIP: This article represents a masterclass in scientific hand reading: