- Profile page: Freda O'Brien, chirologist (hand reading) in Johannesburg [SA] -


Freda O'Brien
*
*
*
*
5 Element Chirologist (hand reader)
in Johannesburg, South-Africa [SA]

Recommendations by Freda O'Brien:
"The Five Element Cheirology which I use requires first the establishment of data, both through appraisal of the live pair of hands and by the taking of handprints.
The analysis made is confirmed by research, then recorded on a pair of prints which have been mounted and this is completed by a Five Element Cheirological statement that provides constructive detail of the evidenced holistic trends.
To accompany this exclusive chart an Unger Lifeprints Code sheet has recently also been given to clients and forms a valid cross reference. The handreading session itself constitutes the tracing of Five Element features and the entertaining of the client's queries. Both the chart and soul data sheet are then taken away for further study. Subsequent optional telephonic follow- up consolidates the reading."
---
- Hand reading profile for Freda O'Brien -
SERVICES:
Chirology consult & workshop (+ reiki & life alignment)
CONTACT INFO:
Facebook: Freda O'Brien
E-mail: Fredao66@gmail.com
Tel: +27 82 221 9746
WEBPROFILE:
-
More hand reading experts in South-Africa:
Hand readers & Palmists in South-Africa

Hand reading partners
from Africa
---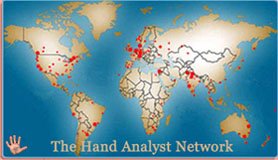 International hand reading experts:
Global Hand Reading Network
Common synonyms for hand reading are:
palm reading, palmistry, hand analysis & chirology