- Profile page: Pascal Stössel, life purpose hand analyst in Zürich [CH] -

Pascal Stössel
*
*
*
*
*
*
*
Hand Analyst - IIHA accredited
in Zürich, Switzerland [CH]

Recommendations by Pascal Stössel:
"What do I offer? I offer the Basic IIHA training that takes 4 days: LifePrints, Handshape, Heartline and 4th is the technique of reading. This is the ticket to pass into the yearlong IIHA course that takes 18 days. New in the pipeline is: the advanced IIHA class for 18 days + the IIHA master path, 18 days again."
"You can find more details about the courses at my website: HERE"
---
- VIDEO: Pascal Stössel at Woman Vision Conference 2010 -
- VIDEO: Pascal Stössel interview -
- Hand reading profile for Pascal Stössel -
SERVICES:
Hand analysis reading (life purpose), course, , author & coaching
CONTACT INFO:
E-mail: hello@iiha.com
Telefon: +41 44 687 60 90, mobile: +41 78 809 18 30
Fax: +41 44 687 50 90
WEBSITE:
More Swiss hand reading experts:
Hand readers & Palmists in Switzerland

Hand reading partners
from Europe
---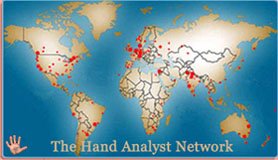 International hand reading experts:
Global Hand Reading Network
Common synonyms for hand reading are:
palm reading, palmistry, hand analysis & chirology