NAIL DISEASES IN CHILDHOOD

Nail formation is accomplished by the end of the second trimester of fetal development. The nails in postmature infants usually extend beyond the hyponychium. However, the nail plate of some infants is shorter than the distal nail pulp, resulting in a pseudo-ingrowing appearance, especially of the toenails. The nail apparatus can be affected by a wide spectrum of congenital, familial or acquired disorders.

Anoxia at delivery, premature and birth trauma may cause nail dystrophy, abnormal color and shape.

Drugs administered to the mother during the first and second trimester of pregnancy are extremely significant factors for nail formation. Phenytoin provokes hypoplasia and longitudinal pigmented bands, warfarin causes hypoplasia and alcohol causes possible anonychia of the fifth digits.

Eczema, psoriasis, lichen planus, AA, epidermolysis bullosa, herpetic whitlow and onychomycosis are the most common diseases affecting nails in childhood.

There are several nail variants at birth, considered to be normal alterations. Although nail dystrophies are quite often a cosmetic problem, sometimes may be important signs of congenital or systemic diseases.






---

NORMAL NAIL DISORDERS IN THE HANDS OF CHILDREN

There are at least 7 'normal' nail findings in newborns, infants and children, including: (1) Beau's lines, (2) fragile nails, (3) pits of the nail plate, (4) koilonychia, (5) v-ridging (chevron nails), (6) punctate leukonychia, and (7) periungual pigmentation.






• 1 - Transverse Depressions - Beau's Lines:

A total of 92% of normal infants between 8 and 9 weeks of age have a single transverse depression on the nail plate as a consequence of parturition. This depression grows out to the distal edge. Beau's line in all 20 nails presenting soon after birth appears to be associated with intrauterine distress.




• 2 - Fragile Nails With Transverse Lamellar Splitting at the Free Edge (Onychoschizia):

Onychoschizia is common in the first few years and is, at most, noted on thumbs and big toes. It is unclear why this change arises, but thumb sucking, nail biting and repeated trauma are thought to be the most common exacerbating factors.






• 3 - Pits of the Nail Plate - nail pitting:

Small and shallow or large and deep, involving few or all 20 nails, pits of the mail plate may be caused by alterations in the proximal matrix. Pits may be seen in psoriasis, atopic dermatitis or AA.






• 4 - Koilonychia - spoon-shaped nails:

Koilonychia is defined as a concave dorsal surface, sufficient to hold a drop of water. This condition is common in neonates and early childhood, usually on the great toenails, is caused by the fact that nails at this age are thin and soft, and it spontaneously resolves in a few years. There is a correlation between koilonychia and mild iron deficiency in infants. Although koilonychia is a temporary physiological condition in infants, it may also result from several congenital and acquired causes, such as ectodermal dysplasias, trichothiodystrophia, LEOPARD (lentigines, EKG abnormalities, ocular hypertelorism, pulmonary stenosis, abnormalities of genitalia, retardation of growth and deafness) syndrome, nail-patella syndrome, thyroid diseases, Plummer-Vinson syndrome, AA, psoriasis, lichen planus and Darier's disease, or may be idiopathic or traumatic.






• 5 - Punctate Leukonychia:

A few or numerous small white scattered opacities may be seen in the childhood nail. A trauma in the nail matrix area, is the most probable cause of this common condition.




• 6 - Periungual Pigmentation:

Light brown to ochre pigmentation on the dorsal aspect of distal digit, has been reported recently in Caucasians infants between the age of 2-6 months and regress spontaneously before the age of 1 year.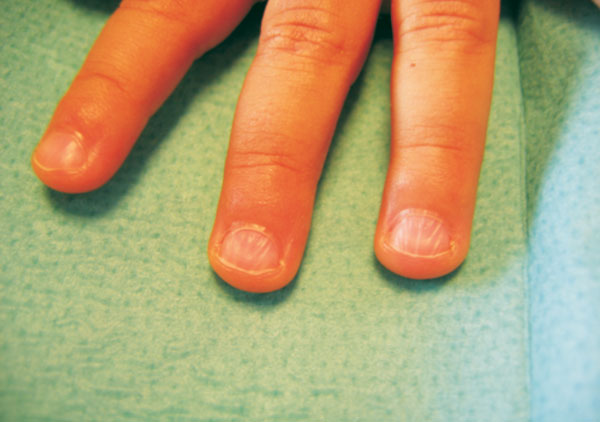 • 7 - Chevron Nails (V-shaped ridging):

Fingernails in early childhood often show superficial longitudinal oblique ridges, across the nail plate diagonally, from the matrix to the distal margin, forming a V-shaped pattern. Schuster proposed the term 'chevron' instead of the old term 'herring bone'. Chevron nails remain of unclear significance and regress spontaneously in early adolescence.