New Delhi: The 18th World Book Fair is on at the capital till Sunday. Nakshatra, a hall dedicated to astrology, has been the surprise hit at the fair this year.

Blame it on the cloudy, chilly afternoons that it isn't pouring book-lovers at the ongoing World Book Fair this time. However, there is one hall that's buzzing with activity. No, it's not the section on Harry Potter, but it comes close.

This hall that has been attracting a lot of attention is entirely dedicated to astrology, palmistry, tarot card reading, and every other imaginable branch of the mystic sciences. Stalls for meditation, astrologers waiting to counsel you about your future, crystal healing, and sadhus ready to give tips on the art of living — you name it and you have it.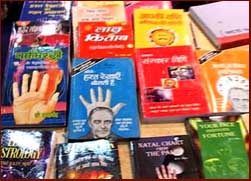 It may be plain curiosity, but astrology is giving World Book Fair organisers a reason to smile.