Profile page: Beth Hale, intuitive palmist in Noosa/Sunshine Coast [AUS]


Beth Hale
*
*
Palmist (hand reader)
in Noosa/Sunshine Coast - Queensland, Australia [AUS]

Recommendations by Beth Hale:
(Not yet available)
---
Quote from Beth's website:
"After years of ink printing and personal readings I have entered the digital age. All I need to complete a reading are six close up prints, three of the left hand and three of the right hand. Relax your hands, don't over stretch whilst taking the prints. (1) The palms, including the wrists. (2) The little finger side of the hand. (3) Close up print of the finger tips. Babies and children's prints are my speciality. Please allow 2 to 4 weeks for your reading."
---
- Hand reading profile for Beth Hale -
SERVICES:
Intuitive palmistry reading, group readings (+ reiki master)
CONTACT INFO:
Facebook: Beth Hale
LinkedIN: Beth Hale
E-mail: beth@beth-hale.com
Mobile: 0403 867 690
WEBSITE:
More hand reading experts in Australia:
Hand readers & Palmists in Australia

Hand reading partners
from Australia
---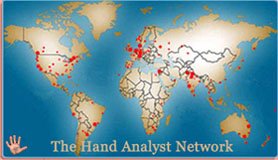 International hand reading experts:
Global Hand Reading Network
Common synonyms for hand reading are:
palm reading, palmistry, hand analysis & chirology