- Profile page for Stephen Millane | Global Hand Reading Network -


Stephen Millane
*
*
*
*
Palmist (hand reader)
in Melbourne, Australia (AUS)

Recommendations by Stephen Millane:
"Based in Melbourne, Australia, I have a background of 30 years in the study and practice of Palmistry and Hand Analysis, including Palmistry for Health, Career and Character Analysis."
I offer personal consultations in Melbourne and attend corporate functions and public events around Australia. As a palmist, my key focus is to offer clarity, understanding and practical insights."
- Hand reading profile for Stephen Millane -
SERVICES:
Palmistry reading, group readings (+ numerology)
CONTACT INFO:
Facebook: Stephen Millane
E-mail: smillane658@gmail.com
Tel: 0421 441 473
WEBSITE:
www.authenticpalmistry.com
authenticpalmistry.yolasite.com
More hand reading experts in Australia:
Hand readers & Palmists in Australia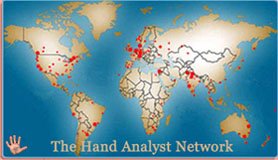 International hand reading experts:
Global Hand Reading Network

Hand reading partners from Australia
Common synonyms for hand reading are:
palm reading, palmistry, hand analysis & chirology