- Profile page: Wendy Hansen, palmist in Brisbane [AUS] -


Wendy Hansen
*
*
Palmist / hand analyst
in Brisbane (Boondall), Australia [AUS]

Recommendations by Wendy Hansen:
(Not yet available)
---
Quote from Wendy's website:
"Using Palmistry I can analyse your prints and reveal your unique personality and character traits. I do this by reading the intricate shape and sizes of the lines on your palms and fingers. In learning more about yourself you will be better placed in making important life decisions."
---
- Hand reading profile for Beth Hale -
SERVICES:
Office & online palmistry readings & hand print analysis
CONTACT INFO:
Facebook: Wendy Hansen
Phone: +61 413 751 535
WEBSITE:
More hand reading experts in Australia:
Hand readers & Palmists in Australia

Hand reading partners
from Australia
---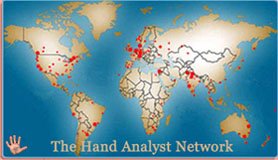 International hand reading experts:
Global Hand Reading Network
Common synonyms for hand reading are:
palm reading, palmistry, hand analysis & chirology