- Profile page for Kenneth Lagerström | Global Hand Reading Network -


Kenneth Lagerström
*
*
*
*
*
*
Cheirologist (hand analyst)
in Burnaby, British Columbia (CAN)

Recommendations by Kenneth Lagerström:
"My lifetime fascination with the human hands comes from my father's lack of them. My studies in palmistry, hand gestures, meditation and other hand related fields are combined in the system known as Holistic Cheirology. By integrating analysis with applied palmar massage and directed internal energy, the hands can be used to identify, then correct, imbalances and other problem areas."
"Author of the E-COURSE:
• Holistic Cheirology"
"Author of the E-BOOKS:
• The Laymans Guide to Cheirology
• Holistic Cheirology Course Manual"
- RADIOSHOW: 'Your Life is in Your Hands' by Kenneth Lagerström -
- Hand reading profile Kenneth Lagerström -
SERVICES:
Palm reading, Holistic Cheirology course, lectures, presentations, E-books & E-course
CONTACT INFO:
LinkedIN: Kenneth Lagerström
E-mail: ken@humanhand.com
Phone: 1-604-298-4770; mobile: 604-831-7256
WEBSITE:
More Canada hand reading experts:
Hand readers & Palmists in the state British Columbia
Hand readers & Palmists in Canada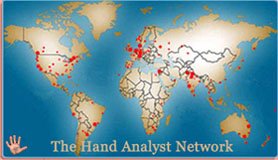 International hand reading experts:
Global Hand Reading Network

Hand reading partners from North America
Common synonyms for hand reading are:
palm reading, palmistry, hand analysis & chirology