- Profile page: Harrison Richards, palm reader in Leeds [ENG] -

Gary Markwick
*
*
*
Palmist (palm reader)
in Leeds, Yorkshire - England [ENG]

---
Recommendations by Harrison Richards:
(Not yet available)
---
Quote from Harrison's website:
"Contemporary Palmistry is the way to explore your life through the palm of your hand. Harrison Richards uses powerful techniques to provide an illuminating, insightful and enlightening interpretation of the palm and what it says about you. Palm Readings for parties and events all over the UK."
---
- VIDEO: Yorkshire Mind Reader Reads Minds -
- Hand reading profile for Harrison Richards -
SERVICES:
Palm reading, parties, corporate (+ psychic entertainment)
CONTACT INFO:
E-mail: harrison@palmreading.co.uk
WEBSITE:
More UK hand reading experts:
Hand readers & Palmists in the region of Yorkshire
Hand readers & Palmists in England
Hand readers & Palmists in the UK

Hand reading partners
from Europe
---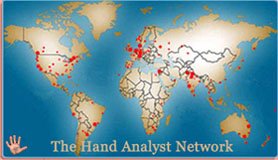 International hand reading experts:
Global Hand Reading Network
Common synonyms for hand reading are:
palm reading, palmistry, hand analysis & chirology
- VIDEO: UK Party Mind Magician Harrison Richards -