Anat Levy *******

PDC CHIROLOGIST (HAND READER)
IN TEL AVIV - ISRAEL





CONTINENT:

LINKPARTNER WEBSITE:
Anat Levy - PDC chirologist
Psychodiagnostic Chirology.

Lanuage:
RECOMMENDATIONS BY ANAT LEVY:
"The PDC beginners course starts in october 2015:

Course location: Ramat gan (10 minutes drive from tel aviv);
Starting: October 29, 2015 18:00-21:00 (24 sessions);
Program: including all the PDC theory + practical practice with pictures and models.
More details: HERE"

Palm reading profile for: Anat Levy

SERVICES:
Psychodiagnostic chirology analysis (PDC), course & supervision

CONTACT INFO:
Facebook: Anat Levy
E-mail: anatzakran@gmail.com

WEBSITE:
anatcafyad.wordpress.com

CHIROLOGY PARTNERS FROM ISRAEL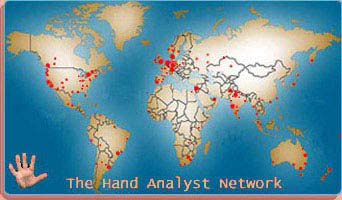 FIND MORE: Hand Readers & Chirologists in Israel
BACK TO: Hand Reader Network