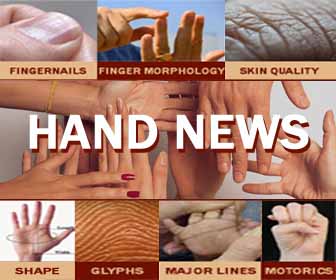 HAND NEWS REPORTS BY TOPIC:

• HANDRESEARCH - Reviews & innovations (42)

• FINGERNAILS - The finger nail & toe nail! (20)
• FINGERPRINTS & DERMATOGLYPHICS!! (63)
• HANDS, BIOMETRY & TECHNOLOGY!! (19)
• HAND GESTURES - Language of hands! (29)
• HAND HYGIENE - Avoid unclean hands! (11)
• HAND LINES - Finger- & palm creases!! (25)
• HANDS, HAIRS & SKIN!! (11)
• LEFT HANDEDNESS - Hand-brain connection! (12)
• PALM READING & HAND ANALYSIS!! (91)
• PALM THERAPY & HAND REFLEXOLOGY!! (14)
• ANIMAL & PRIMATE HANDS!! (12)
• THUMBS & FINGERS - The five digits!! (22)
• 2D:4D DIGIT RATIO - Index - ring finger length! (54)
• HANDS ON HAND HYGIENE! (14)





HAND NEWS REPORTS BY YEAR:
• HAND NEWS - 20th century (14)


Video: evolution of the human hand!




2012: THE TOP 50
HAND RESEARCH REPORTS



The most popular (= most viewed)
Hand Research reports during 2012 were:


290+ ARTICLES INCLUDED
[from january 2013 back to the year 1895]
- HAND NEWS DATABASE -

SCIENTIFIC PALM READING: FOLLOW THE GLOBAL DEVELOPMENTS + LINKS TO MANY IMPORTANT ARTICLES






MORE NEWS:
HANDS ON HEALTH CARE!!