Celebrities lending a Hand for charity (USA)

November 1, 2007

American Celebrities lend a Hand for charity
The Curel Helping Hands Wall to Benefit the American Red Cross

Source: PRNewswire
There's a new way to help those in need: by lending a hand through your handprint!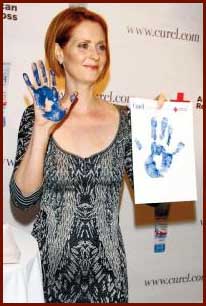 Eyewitness News reporter Lauren Glassberg was at today's big kickoff, which featured some star power and regular people doing their part to help victims of disasters. It's a creative way to literaly lend a hand.

For the next three days you'll see a lot of hands hanging up at the Time Warner Center. Some are photocopied images, while others are made with paint.

Some belong to celebrities like Julianne Moore, Marlee Matlin and Cynthia Nixon. The New York actress is using her celebrity to help raise money for the American Red Cross.

Today she had a break from filming the 'Sex in The City' movie to have the palm of her hand covered in blue paint. She's leaving a lasting impression that along with other celebrity hand prints will be auctioned off on Sunday.

The handprints may go for hundreds, even thousands of dollars - money the Red Cross will put to good use. Just consider what's gone into helping victims of the wildfires in California.
From fires to flooding, it's a reminder that by lending a hand, even a little hand, you can do wonders for others.
The full list of the participating celebrities include: Alicia Coppela (Jericho), Sophia Bush (One Tree Hill), Hilarie Burton (One Tree Hill), Marlee Matlin (actress), James Lafferty (One Tree Hill), Chad Michael Murray (One Tree Hill), Keisha Whitaker (actress), Bethany Joy Gaelotti (One Tree Hill), Guiliana Rancic (host), Callie Thorn (Rescue Me on FX), John Slattery (Desperate Housewives), Audrina Patridge (The Hills), Dana Delany (Desperate Housewives), Famke Janssen (actress), Michael Imperioli (The Sopranos), Genevieve Gorder (designer), Rachel Smith (Miss USA), Vanessa Carlton (singer/songwriter), Victor Garber (actor), Holly Robinson Peete (actress), Darlisea Cearcy (The Color Purple on Broadway), Cynthia Nixon (Sex & the City), Nancy O'Dell (host), Jamie Pressly (My Name is Earl), Emmanuelle Chriqui (Entourage).
---
NOTICE: This American 'Curel Skin Care project' is sort of a spinn-off of a 'Celebrity Handprints' book release which is planned for December 1 - see the November 7 article: UK: 'Celebrity Handprints' book
Related sources:
www.prnewswire.com
ABClocal.go.com
The Ebay bid list
Celebrity Handprints