- Profile page for Baeth Davis | Global Hand Reading Network -


Baeth Davis
*
*
*
*
*
*
IIHA Hand analyst (hand reader)
in Marina del Rey, California (US)

Recommendations by Baeth Davis:
"Bio for Baeth Davis, The Hand Analyst , Inc. www.YourPurpose.com"

"Baeth Davis, The Hand Analyst, is: The Palm Pilot for the Soul of Your Business."

"As heard on KPFK Radio Los Angeles, NPR, and Radio Europe and in interviews with the Los Angeles Times, Women's World, Cosmopolitan and many others, Baeth is dedicated to bringing the brilliance of hand analysis to you so you can discover that your success literally lies in the palm of your hands! Baeth can help you discover your true calling through her inspiring one-on-one hand analysis sessions, Hand Analysis Master Mind, hand analysis training workshops and home-study information products."

"Baeth also owns a full-time coaching business helping spiritually-oriented entrepreneurs, coaches, consultants, healers, artists, speakers and authors create "Life Purpose" centered businesses that are profitable AND purpose-full. Baeth trained as a coach with Coach For Life. She calls hand analysis the "Ultimate Coaching Tool" for helping clients make accelerated progress in their unique business niches."

"Be sure to drop by Baeth's web site, to take your Life Purpose to the next level. Beth Davis will show you the path to success - it's not always what you think!"

- VIDEO: Introduction to Baeth Davis -
- Hand reading profile for Baeth Davis -
SERVICES:
Life Purpose Hand Analysis: hand reading, E-course
CONTACT INFO:
Facebook: Baeth Davis
WEBSITE:
More US hand reading experts:
Hand readers & Palmists in the state California
Hand readers & Palmists in the US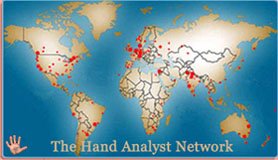 International hand reading experts:
Global Hand Reading Network

Hand reading partners from North America
Common synonyms for hand reading are:
palm reading, palmistry, hand analysis & chirology
- VIDEO: Baeth Davis Intro - Well And Wise Online Expert -