- Profile page: Janet Savage, Life Purpose Hand Analyst in Stowe [US] -


Janet Savage
*
*
*
*
*
*
*
IIHA Hand analyst (hand reader)
in Stowe, Vermont [US]

Recommendations by Janet Savage:
"HandTales, Janet Savage

Janet Savage is a Master Hand Analyst (& Master Teacher) and faculty member of the International Institute of Hand Analysis (IIHA). She provides private consultations, Certification Training in the IIHA hand and fingerprint system, workshops and retreats in Life Purpose discovery for individuals in transition and in business development for body, mind and spirit practitioners.

A storyteller by nature, she helps individuals and groups claim their personal story. She brings years of expertise in leadership training, health counseling, career development and adult education to her practice."
CALENDAR:

Visit the calendar for the upcoming events and classes.

You can live anywhere in the world. I do phone and Skype consultations worldwide. Here are your options.
---
- VIDEO: Janet Savage: 'What's in a hand?' -
- Hand reading profile for Janet Savage -
SERVICES:
Life Purpose mapping: palm reading, classes, author, career/relationship transitions, long term coaching & training presentations
CONTACT INFO:
Facebook: Janet Savage
E-mail: janet@handtales.com
Telephone: 802-279-8554
WEBSITE:
More US hand reading experts:
Hand readers & Palmists in the state Vermont
Hand readers & Palmists in the US

Hand reading partners from North America
---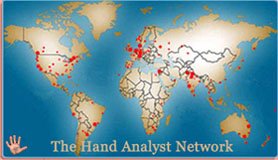 International hand reading experts:
Global Hand Reading Network
Common synonyms for hand reading are:
palm reading, palmistry, hand analysis & chirology
- VIDEO: Janet Savage's clients about her work -