- Profile page: Ronelle Coburn, Life Purpose Hand Analyst in Portland [US] -


Ronelle Coburn
*
*
*
*
*
*
*
IIHA Hand analyst (hand reader)
in Portland, Oregon [US]

Recommendations by Ronelle Coburn:
"Ronelle Coburn - IIHA Master Hand Analyst
Portland, OR - US

For 14 years, Ronelle Coburn, founder of www.LifePurposeNow.com has helped over 11,000 healers, cultural creatives, artists, leaders, entrepreneurs, and innerpreneurs discover their true Life Purpose so they can enjoy lives of extraordinary personal and professional fulfillment and contribute to making the world a better place. Ronelle has authored the bestselling book Destiny At Your Fingertips and been featured on NBC's Today Show, Woman's World, onespirit.com, ofspirit.com, and Library Journal. She also teaches others worldwide how to read the powerful Instruction Manual for Life written in the fingerprints and is devoted to helping you discover the LIFE you LOVE to LIVE.

Ronelle offers private consultations and distance-based IIHA LifePrints training to students all over the world.

Visit www.LifePurposeNow.com to see videos of People on Purpose and answers to Ask Ronelle Questions on Ronelle's Talk To The Hand Show!"
BOOK:
Destiny at Your Fingertips
---
- VIDEO: Ronelle Corburn at The Today Show -
- Hand reading profile for Ronelle Corburn -
SERVICES:
Life Purpose mapping: palm reading, course & author
CONTACT INFO:
Facebook: Ronelle Coburn
E-mail: ronelle@ronellecoburn.com
Telephone: 971-255-1272
WEBSITE:
www.LifePurposeNow.com
www.LifePurposeAcademy.com
More US hand reading experts:
Hand readers & Palmists in the state Oregon
Hand readers & Palmists in the US

Hand reading partners from North America
---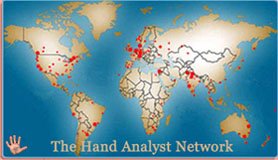 International hand reading experts:
Global Hand Reading Network
Common synonyms for hand reading are:
palm reading, palmistry, hand analysis & chirology