- Profile page: Paul Fenton-Smith, palmist in Epping-Sydney [AUS] -


Paul Fenton-Smith
*
*
*
*
*
*
Palmist (hand reader)
in Epping-Sydney, Australia [AUS]

Recommendations by Paul Fenton-Smith:
"Author and palmist Paul Fenton-Smith has been teaching palmistry since 1981, having first studied hand reading in 1978. As principal of the Academy of Psychic Sciences in Sydney, he offers certificate courses in palmistry and tarot reading, and is a regular guest on radio and television."
"Paul's book "Palmistry Revealed" is set out in the order you give a palm reading, starting with the backs of the hands and ending with the Lines of Children. Paul sees palmistry as a tool to discover your talents, and he urges clients to use free-will to make the most of opportunities life offers."
Courses:
"Paul conducts one introductory certificate course in palmistry each year in Sydney in August and interstate courses from time to time. He also teaches tarot reading, psychic development, astrology, meditation and he lectures internationally."
Services Offered:
"Paul has a private practice in Sydney offering personal palmistry, astrology, tarot and pure clairvoyance readings, counselling and hypnotherapy sessions."
Author of the book:
Palmistry Revealed new edition (2017)
---
- VIDEO: Palm readings by Paul Fenton-Smith -
- Hand reading profile for Paul Fenton-Smith -
SERVICES:
Palmistry reading, course & author
(+ psychic, astrology & tarot)
CONTACT INFO:
Facebook: Paul Fenton-Smith
E-mail: paul@paulfentonsmith.com
Phone: +61 (0)2 9876 4559
WEBSITE:
More hand reading experts in Australia:
Hand readers & Palmists in Australia

Hand reading partners
from Australia
---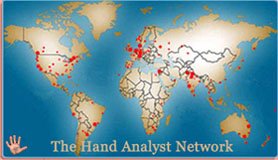 International hand reading experts:
Global Hand Reading Network
Common synonyms for hand reading are:
palm reading, palmistry, hand analysis & chirology