- Profile page: Sarah Yip, palmist in Brisbane [AUS] -

Sarah Yip
*
*
*
*
Palmist (hand reader)
in Brisbane [Chermside West / Macgregor], Australia [AUS]

---
Recommendations by Sarah Yip:
"My readings are honest, friendly and very accurate. I specialise in love and career guidance, as these are the areas that bring me the greatest happiness in life."
"Palmistry Readings:
Palmistry is a wonderful tool that gives a broad overview of your personality and opportunities in life. I am an experienced palmist who has read for hundreds, if not thousands, of people over the past eight years. Palmistry works because your palms are an ever-changing imprint of your thoughts and actions to date. During our session I will examine the patterns in your hands and fingerprints to explain your life journey, including the types of people and events you are attracting."
"Palmistry Tuition:
Anyone can become a great palmreader with the right attitude and training. I would love to work with you to answer any questions you have on palmistry. I am an experienced and practical teacher with a background in one on one training."
"It's important to choose a reader that you feel safe and connected with. I hope that this page gives you a sense of what I offer, and that we will meet soon."
Quote from Sara's website:
"During your reading I'll reveal your soul's journey, based on your name, hands and DOB. As an ex-scientist, my advice is practical and focused. All readings are recorded and I maintain a high standard of integrity."
---
- VIDEO: Psychic readings by Sarah Yip -
- Hand reading profile for Sarah Yip -
SERVICES:
E-mail, phone and in person palm reading, palmistry tuition (+ holistic counselling, clairvoyance & tarot & numerology)
CONTACT INFO:
Facebook: Sarah Yip
LinkedIN: Sarah Yip
E-mail: info@sarahyip.com
SMS: 0408 898 028 (Please text rather than calling)
WEBSITE:
More hand reading experts in Australia:
Hand readers & Palmists in Australia

Hand reading partners
from Australia
---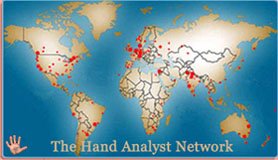 International hand reading experts:
Global Hand Reading Network
Common synonyms for hand reading are:
palm reading, palmistry, hand analysis & chirology