- Profile page for Helen Evans | Global Hand Reading Network -


Helen Elizabeth Evans
*
*
*
*
*
IIHA Hand analyst (hand reader)
in London (ENG)

Recommendations by Helen Evans:
"Helen is a non-predictive Life Purpose Hand Analyst. The style of hand analysis she uses is the Lifeprints system developed by Richard Unger. This system has a remarkable ability to bring your inner most dreams to the surface and show you what is stopping you from realising those dreams."

"Helen's passion is to empower individuals to fulfil their dreams, entrepreneurial, spiritual and personal..."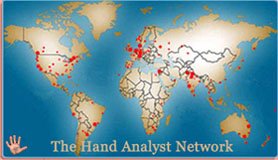 International hand reading experts:
Global Hand Reading Network

Hand reading partners from Europe
Common synonyms for hand reading are:
palm reading, palmistry, hand analysis & chirology
- VIDEO: Helen Evans interview -