- Profile page for Lynn Seal | Global Hand Reading Network -


Lynn Seal
*
*
*
*
*
*
*
Palmist (chirologist - UK C.S. ACCREDITED)
in Torquay, Devon (ENG)

Recommendations by Lynn Seal:
"I am one of the few hand readers in the world to have studied both traditional palmistry and cheirology based on the elements. I do private handreadings and run courses in hand analysis in Torquay, Devon, England - where I also help my friend to teach Tarot reading. And I do some talks & readings at mind, body & spirit fairs, have featured in magazines and radio interviews. The internet enables me to do online readings for people from all over the world."

"I co-moderate two discussion groups on hand analysis:
• Modern Hand Reading Forum - a new hand reading forum open to all;
• Palmistry Primal Focus Group - online palmistry forum open to all.

And I love to talk about palmistry and to share ideas with other handreaders!"
- Hand reading profile for Lynn Seal -
SERVICES:
Palmistry reading, (live) course (+ tarot reading)
CONTACT INFO:
Facebook: handanalysis.co.uk
E-mail: lynn@handanalysis.co.uk
Phone: 01803 21135
WEBSITE:
More UK hand reading experts:
Hand readers & Palmists in the South-West
Hand readers & Palmists in England
Hand readers & Palmists in the UK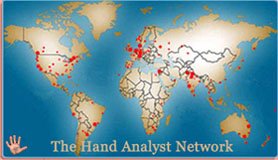 International hand reading experts:
Global Hand Reading Network

Hand reading partners from Europe
Common synonyms for hand reading are:
palm reading, palmistry, hand analysis & chirology