Batya Weinbaum *

PALM READER (PALMIST)
IN ISLA MUJERES - MEXICO




CONTINENT:

RECOMMENDATIONS BY BATYA WEINBAUM:
"BATYA Studied palmistry in the Vedic tradition in India, and practices out of her shop Feminina Sube on Isla Mujeres.

Mexico: Nov.-May. She can be reached year round at weinbaumbatya@gmail.com and on her Mexican cellular, 529983703815. For profile and testimonials, see Palmistry on Isla Mujeres.

In the summer she is on her land in Floyd, VA, Handmaids Gate and in and out of Cleveland Heights. She has published two books on palmistry, Opening Palms and On the Palmist Road, extensions of her column of five years Opening Palms in the Santa Barbara Independent."

Palm Reading profile for: Batya Weinbaum

SERVICES:
Palmistry reading, tarot, vedic astrology, numerology, readings of hands and feet, message passing.

CONTACT INFO:
Facebook: Batya Weinbaum
E-mail: weinbaumbatya@gmail.com
Phone: 529983703815

WEBSITE:
-

HAND ANALYSIS PARTNERS FROM NORTH AMERICA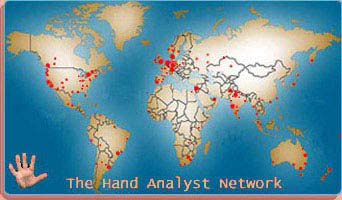 FIND MORE: Hand readers & Palmists in Mexico
BACK TO: Hand Reader Network