Left-handed people appear more likely to hesitate!!
People who are left-handed are more likely to get anxious or feel shy or embarrassed about doing or saying what they want!
NOVEBER 8, 2008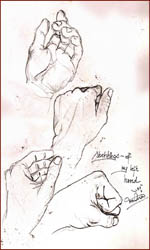 Researchers found left-handers tended to agree more with statements such as "I worry about making mistakes."
Those involved in the Abertay University study were given a behavioural test that gauges personal restraint and impulsiveness. They also agreed that "criticism or scolding hurts me quite a bit." In total, 46 left-handed people were compared with 66 right-handers.
Authors: editors of BBC