- Profile Page: Ghulam Murtaza, palmist in Lahore [PAK] -


Ghulam Murtaza
*
*
*
*
*
A dipl. Palmistry International
in Lahore [PAK]

Recommendations by Ghulam Murtaza:
"I was born on 11 June 1963 and got graduation from The Punjab University, Lahore-Pakistan, MBA in Human Resources Management and Law Education.

I started taking interest in Palmistry with reading of some locally available books in 1991 which latterly became my passion and I decided to explore the new horizons in this field. Then, I got admission in Institute of Palmistry, New Delhi - India and got basic and advance diplomas in Palmistry under the supervision of Mrs. Nisha Ghai and Professor Dayanand Verma. My third teacher is Mrs. Sue Compton, International College of Palmistry of Palmistry, from where I learnt advance Western Palmistry. I also got a lot from my colleague at the Modern Hand Reading Forum and very well-known name in this field, Mr. Martijn van Mensvoort, from Netherlands, especially regarding medical palmistry and dermatoglyphics his contribution is amazing.

I am practicing in UAE and Lahore and available by appointment . Those who cannot see me personally may send their scanned images or HD picture of hands taken with the camera followed by on line session on phone/messenger. Make sure please palm prints are readable from them."
---
- Hand reading profile for Ghulam Murtaza -
SERVICES:
Palmistry reading (diplomas in basic & advanced palmistry)
CONTACT INFO:
Facebook: Ghulam Murtaza GM
Email : tmalahore@gmail.com
Phone: 0092-336-7307898
Whats up : 0092-321-8490848
WEBSITE:
More hand reading experts in Pakistan:
Hand readers & Palmists in Pakistan

Hand reading partners
from Asia
---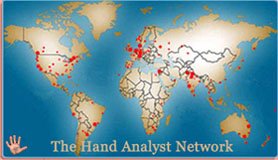 International hand reading experts:
Global Hand Reading Network
Common synonyms for hand reading are:
palm reading, palmistry, hand analysis & chirology