- Profile page for Ed Campbell | Global Hand Reading Network -


Ed Campbell
*
*
*
*
Hand reader (palmist)
in Seattle (US)

Recommendations by Edward D. Campbell:
"Allow me to introduce myself. I do not come from a family of psychics or fortunetellers. I was born on Sunday, September 12, 1937 about 10:06 am in Little Rock, Arkansas, in the USA. I was the third child of a middle class family that could trace its roots in the United States to before the American Revolution. My father was a reporter - editor with the Associated Press and we traveled some in my youth. Outside of three formative years in an English boys school in London, I went to American public schools and received my AB and JD degrees from the University of Missouri at Columbia. I am an active member of the Washington State Bar Association and have been in the private practice of law since 1966 in Seattle, Washington. I have been admitted and practiced as a legal counselor and as both a trial and appellate advocate in all courts of that state and the federal courts up to the U.S. Supreme Court. I began my interest and practice of hand analysis about a quarter of a century ago I taught it for about ten years at the student run Experimental University at the University of Washington. From this experience I wrote a text on the subject published in 1996 that I am currently revising. I hope to add update notes and about 100 or more new illustrations. It will be available on line.

In 1998 I published A History of Dermatoglyphics, Palmistry & Character Identity. It also is in need of updating.

I am currently chairing the International Behavioral and Medical Biometrics Society and looking forward to our next conference in Las Vegas, Nevada, USA in mid October, 2009.

I will participate this summer (July 2009) in a dermatoglyphics panel discussion at the 16th International conference of the Union of Anthropologists and Ethnologists at Yunan University in Kunming China. I am working with Dr. Vijayan K. Asari, PhD, Professor in Electrical and Computer Engineering, and graduate students at the Vision Lab, Old Dominion University in Hampton Roads, Virginia, on the development of software for hand analysis and blind testing of statistical accuracy of predictions of behavioral correspondences to hand features. The first test involves the recognition of about three dozen fingerprints that could be found on the index finger as well as the shape of that finger. The Vision Lab is a leading developer of facial recognition programs and has done work for both the US departments of Homeland Security and Defense. Here is a description of some of Dr. Asari's work and why I feel his department can be qualified to develop the extremely complex recognition software necessary in the field."
- VIDEO: Palmistry 101 with Ed Campbell -
- Hand reading profile for Ed Campbell -
SERVICES:
Hand reading, IBMBS conferences, author
CONTACT INFO:
Facebook: Ed Campbell
E-mail: handreadered@spamarrest.com
WEBSITE:
-
Author of the BOOKS:
• The Encyclopedia of Palmistry (1996)
• Fingerprints and Behavior: A Text on Fingerprints and Behavioral Corespondences (2012)
More US hand reading experts:
Hand readers & Palmists in the state of Washington
Hand readers & Palmists in the US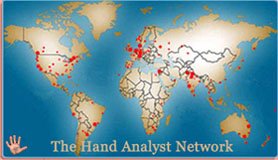 International hand reading experts:
Global Hand Reading Network


Hand reading partners from North America
Common synonyms for hand reading are:
palm reading, palmistry, hand analysis & chirology
- VIDEO: Hand Shapes by Ed Campbell -