A kiss is healthier than a Handshake!
A firm handshake may feel more British, but a Continental kiss is healthier for you.
Article by: Richard Gray - telegraph.co.uk, FEBRUARI 12, 2008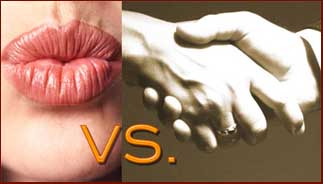 People who greet each other with handshakes are much more likely to pass on germs such as flu, cold and stomach bugs, than those who settle for a peck on the cheek, a scientific study has concluded.

More than three million Britons called in sick last week as flu and norovirus outbreaks swept through the country. The majority will have been infected after touching someone else's hands and might have been better off kissing friends and relatives instead.
"The hands are critical in the chain of infection as they transmit infections from surfaces to people and between people," said Prof Sally Bloomfield, from the London School of Hygiene and chairman of the International Scientific Forum on Home Hygiene, which carried out the research on hand hygiene.

"Shaking hands is the main form of physical contact with each other but you don't know what the other person has been touching before you greet them. People avoid kissing each other when they have a cold, but in fact they are more likely to pass on an infection by shaking someone's hand."