Finger professor John Manning presents new digit ratio theory!

December 27, 2011

Manning's New Digit Ratio Theory!

2D:4D Finger length ratio reflects the balance between prenatal testosterone- & prenatal estrogen concentrations!

In the summer of 2011 John Manning - 'the finger professor' - has presented a revised version of his finger ratio theory. The new theory describes how the 2D:4D digit ratio should be understood as a biometric measure of the balance between prenatal testosterone- and estrogen estrogen concentrations.

Manning's new theory is presented in a PNAS-article, titled: 'Resolving the role of prenatal sex steroids in the development of digit ratio'.

A visual presentation of key-elements in John Manning's new finger theory: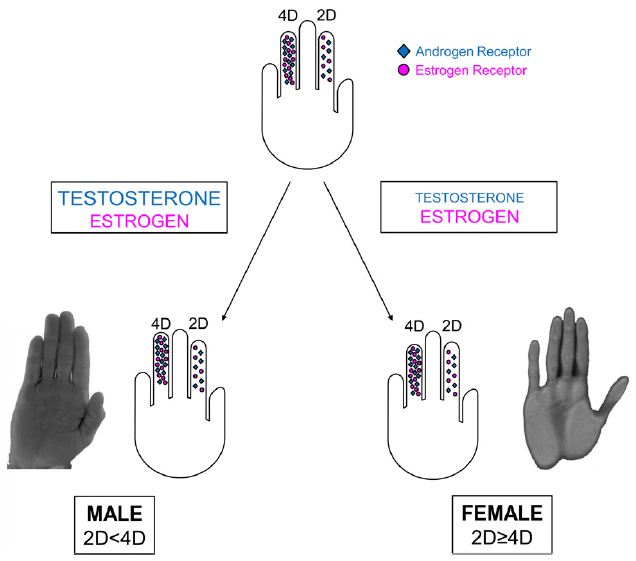 7 KEY ELEMENTS IN JOHN MANNING'S NEW HYPOTHESIS:

1 - 2D:4D Finger ratio results from the balance between prental testosterone & prenatal estrogen;

2 - High 2D:4D finger ratio result from low testosterone concentrations OR high estrogen concentrations;

3 - Low 2D:4D finger ratio result from high testosterone concentrations OR low estrogen concentrations;

4 - The ring finger (4D) has much more hormone receptors than the index finger (2D), therefore the 2D:4D finger ratio is mostly driven by changes in the length of the ring finger (due to prenatal hormone concentrations);

5 - Studies in human & animals indicate that the link between prenatal hormones and 2D:4D finger ratio is generally stronger for the right hand;

6 - 2D:4D Finger ratio varies with sexe: males generally have longer fourth digits relative to second digits than females;

7 - 2D:4D Finger ratio varies with ethnicity.
---
John Manning summarizes in his article:

"Prenatal sex steroids [i.e., prenatal testosterone (PT), prenatal estrogen (PE)] are often implicated in the etiology of behaviors and diseases. They show sex differences (higher concentrations of PT to PE in males), with PT peaking at the end of the first trimester, and cause permanent "organizational" changes in the brain and other organ systems. It has been suggested that relative levels of PT and PE may have differential effects on fertility, speed, strength, aggression, autism, many cancers, and heart disease."

"...As for the future, Zheng and Cohn have provided us with a list of 19 genes that are sensitive to PT or PE and are involved in the formation of the phalanges in the fourth digit. Armed with this list of skeletogenic genes linked to 2D:4D, we can now be more focused in our examination of the links between 2D:4D and the etiology of sexdependent behaviors and diseases of the immune system, cardiovascular disorders, and a number of cancers."


These new insights suggest that future finger ratio research will probably become re-designed, e.g. featured with more sophisticated control mechanisms.
Discover the Latest News about Hands!
- HAND NEWS DATABASE -

SCIENTIFIC PALM READING: FOLLOW THE GLOBAL DEVELOPMENTS + LINKS TO MANY IMPORTANT ARTICLES

MORE NEWS:
HANDS ON HEALTH CARE!!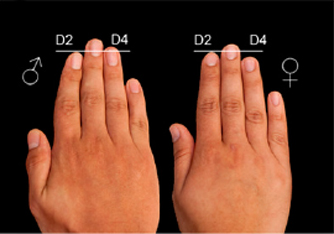 More finger length in sports reports:

• Prof. John Manning's new finger length theory!
• Height, digit ratio & sexe differences!
• Low digit ratio associates with delayed menarche!
• Studying finger length ratios: new chiromancy?
• More studies on finger length & hormones!

Video 1: John Manning lecture in Mexico (2013).
Video 2: John Manning 2D:4D digit ratio interview (2008).
Video 3: John Manning in 'BBC secret of the sexes' (2005) [item featured with John Manning starts at 34:17].